"When Chickenheads Come Home to Roost: A Hip Hop Feminist Breaks it Down" by Joan Morgan
Updated: Jan 30, 2020
TITLE: When Chickenheads Come Home to Roost: A Hip Hop Feminist Breaks it Down
AUTHOR: Joan Morgan
PUBLISHER: Simon & Schuster
PUBLISHED DATE: March 10, 1999
ISBN: 978-0684822624
PAGES: 240
I thoroughly enjoyed this. I am ashamed to admit that I've owned the paperback copy of this book for YEARS, and am just now reading it thanks to a newly released audiobook that turned up on my library Hoopla account. Now I need to read my print copy, and take all the notes.
For me, this was refreshing. It's straight up from around the way, intellectually stimulating, serving the tea on racism in the feminist community and still calling out the toxic masculinity that exists within the black community. I just imagine all the years I've gone without this in my life. Honestly, it's a tragedy, and if you haven't read this book yet - please remedy this situation in your life.
Morgan is the homegirl, hopefully, most of us have. The one who keeps it real. The one who has earned the respect of academia yet maintains her ties to the streets. Morgan speaks of her mother, a woman who worked hard, who let her children see her go after her dreams, and then blossom in the full realization of independence. With her mother as a shining example, Morgan chased her dreams of broadening her horizons through education. In the pursuit of finding herself, she did meet an older man - both wise and connected who thrust her into the literary scene. Though unsure of herself and her aptitude for writing, Morgan's thoughts and writing style proved insightful and in demand, and put her on the path to writing for the sistahs who love an in depth analysis of the plight of black women in the United States but still love to turn up to Hip Hop.
Though this book was published in 1999, it still feels fresh. Morgan's style and approach is one I recognize in the erudite Twitter threads sprinkled with the language of the hood that gets me through each day, and that, hopefully, is making America a place where people of all colors are able to speak freely and demand social change. Though Morgan's critique of feminism and the policing of black women by intellectual and hotep black men is sharp and spot on, it's sad that it's still true in 2017. Though Morgan calls out these groups, she does not leave herself out of the blame, and exposes her own "chickenhead tendencies".
She describes the ways in which she herself is an unapologetic feminist - and has been one even before she new the word. But she also sees inside herself a desire to be pampered and doted on under the undivided attention of a loving man - a desire shared by most of her heterosexual friends. She wants doors opened for her, shopping sprees, a man to take charge in the bedroom - but he also must be in tune with her needs as a black woman and see her as a partner with opinions as valid as his own. Really, is this too much to ask???? This book is not perfect, and does not advertise itself to be. But it is real. It is intellectual, but it is not inaccessible to the sistahs on the block, the ones without the privilege of scholarship and jargon. I loved it immensely. If I could name a book that embodies Angela Rye's word "sophisti-ratchet" this book would be it!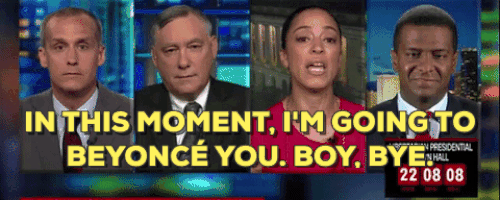 Morgan doesn't shy away from the seeming oxymoron use of the term "Hip Hop Feminist". For the most part, hip hop seems to be synonymous with misogyny, and Morgan tackles her difficult relationship with hip hop's abusive language and behavior towards women, particularly women of color, and the impact these messages have within the black community. She also seeks to analyze the source of black male fears of empowered black women and its contribution to the dehumanization of black women in some hip hop lyrics and music videos.
As I had the opportunity to listen to the audiobook, published in 2017, I was treated to an interview of the author where she talks about being snubbed by some black women in the intellectual community. (Honestly, why can't we all just get along. Why can't we acknowledge that we have to work four times as hard for less than a quarter as much, and that we still have to detangle our crowns and lay our edges hours before the rest of the world even wake up in the morning...*sigh*-- Why can't we cut each other a little slack.)
Morgan provides her thoughts on the current political climate - an ever changing evolution. Between finishing this audiobook and writing this review, several prominent members of the Trump administration have been relieved of their titles. We truly are living in unprecedented times. It is crazy out in these streets, and When Chickenheads Come Home to Roost, was the life giving sustenance I have needed.
CCCADI MEDIA: Joan Morgan | Black & Latina Feminism Conference
Recommendation: Required. This is a timeless read that speaks to the very real experiences of black women.
Audience: Grown Folks
#humor #africanamericanwomen #africanamericans #bookreview #nonfiction #africanamericannonfiction #bookreviews #audiobooks #diversebooks #hiphop #feminists #blackwomen